Author, lecturer, coach, and sophrologist specialised in stress management.
"Life is a path; we might as well follow the one that makes us happy!"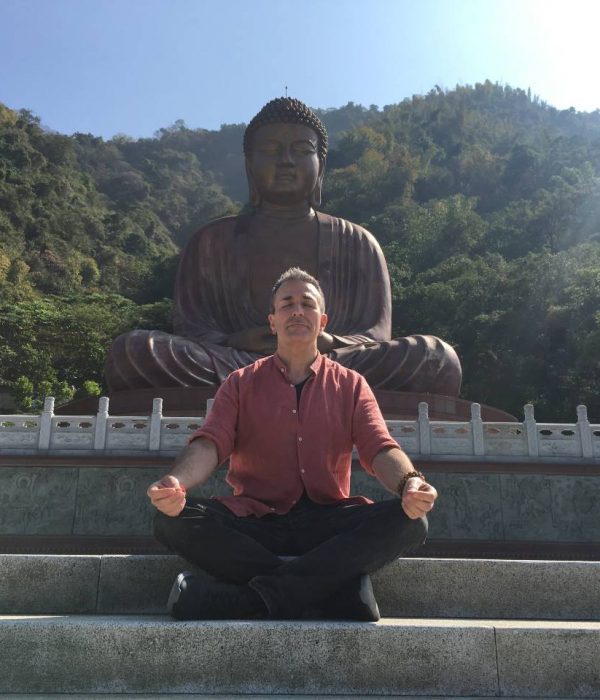 My life path has taken me from TV to writing, from the West to the East, and from stress to serenity..
Your sophrologist and wellness coach
The notion of conscience or unconscience as well as the link between body and mind are for me a constant source of curiosity and study: what internal energy pushes us to succeed one day and fail the next? Could it be that our thoughts directly affect our actions?
My research, encounters, and experiences, including now in Asia, made me realise that we are to a large extent responsible for these thoughts and their effects on our health, both physical and mental. When faced with this challenge, nature, and in particular forests, have always been a source of comfort for me, by turns confidants, accomplices, or protectors. Which one of us doesn't have the picture of a tree or landscape anchored in their memory, as a serene and soothing place where it feels comforting to escape mentally to overcome stress or difficulty? After many meditative journeys at the heart of temperate and tropical forests in search of wisdom and balance, I have understood that nature, associated with good practices, is the ideal place to find answers for the ills of our society, let go, reconnect with our essential needs, and give up appearances for the truth. It is today as a sophrologist, coach, author and lecturer that I propose to accompany you towards a life balance that suits you.               
Together, let's take care of you!
Recover Your Balance In Nature In 50 Exercises
€ 19.90 With this new book, published in 2021, Alain Lancelot offers a practical method against stress to reconnect with oneself and with nature. "This new book is the result of many meditative walks at the heart of temperate and tropical forests that have helped me keep a good balance in my life and rebuild myself after my burn-out. Learning about ancestral Asian practices at the root of many of the wellness techniques used in the West today, it has become clear to me that we are to a large extent responsible for our own health, and that nature is the most suitable place to let go, reconnect with our basic needs, and learn to manage the stress stemming from our society. My reconnection paths are organised in six, progressive and complementary stages, allowing you to transform your forest walks into paths of balance. To do this, I suggest you enrich your walking with 50 exercises inspired by sophrology, Qi Gong, meditation, and coaching, which you will be able to practice throughout the seasons and at your own pace." A practical method, coming at the right time after the recent public health crisis, to regain a balance in life and learn to reconnect with oneself as much as with nature.
"Alain Lancelot's words are precious, including because they invite us to listen to our needs. This is the path of a spectacular transformation towards a happier and more peaceful life."
Frédéric Lopez, TV presenter and producer
Trainings offered by Alain Lancelot
1/ Presentation for the 2020 Taipei International Book Fair: Dive into the heart of the rainforest and find about my different books live from Taiwan.
2/ "Lighten Your Mind", ed. Trédaniel: Find the keys to freeing your mind from all parasitic and anxiety-provoking ideas.
3/ In collaboration with "ELLE" magazine, I invite you to learn how to manage daily stress. Just practice this session in a quiet place to start freeing yourself.
4/ One minute for wellness: how abdominal breathing helps manage stress and calm down.
5/ In collaboration with "ELLE" magazine, I invite you to turn the power of visualisation to your advantage. This method is one of the scientifically-validated secrets to success.
6/ National release of Alain Lancelot's newest book, "Reconnection Paths", on June 03rd, 2021.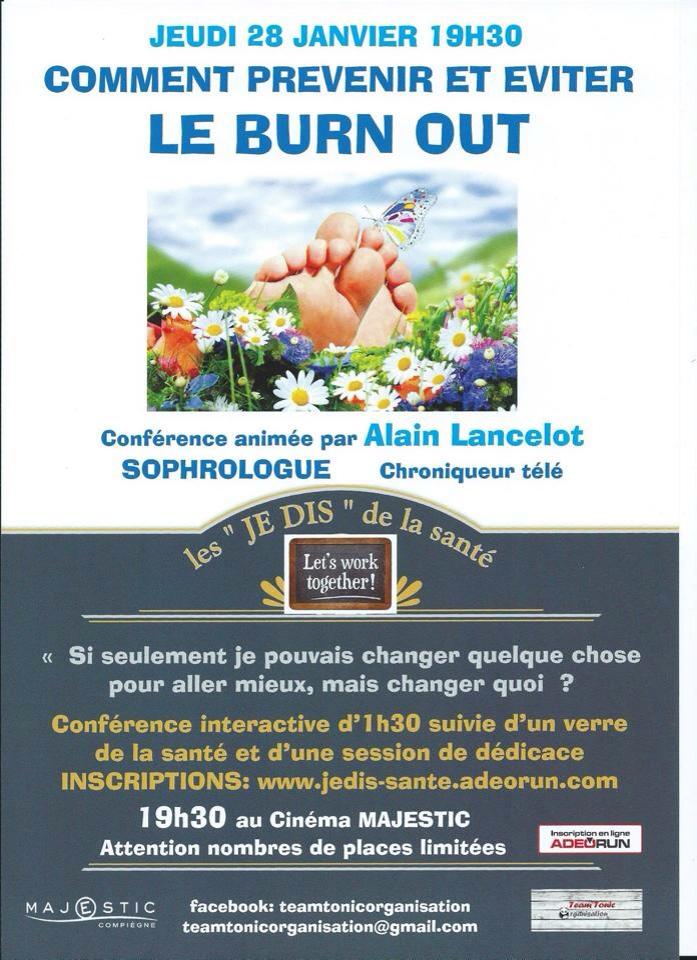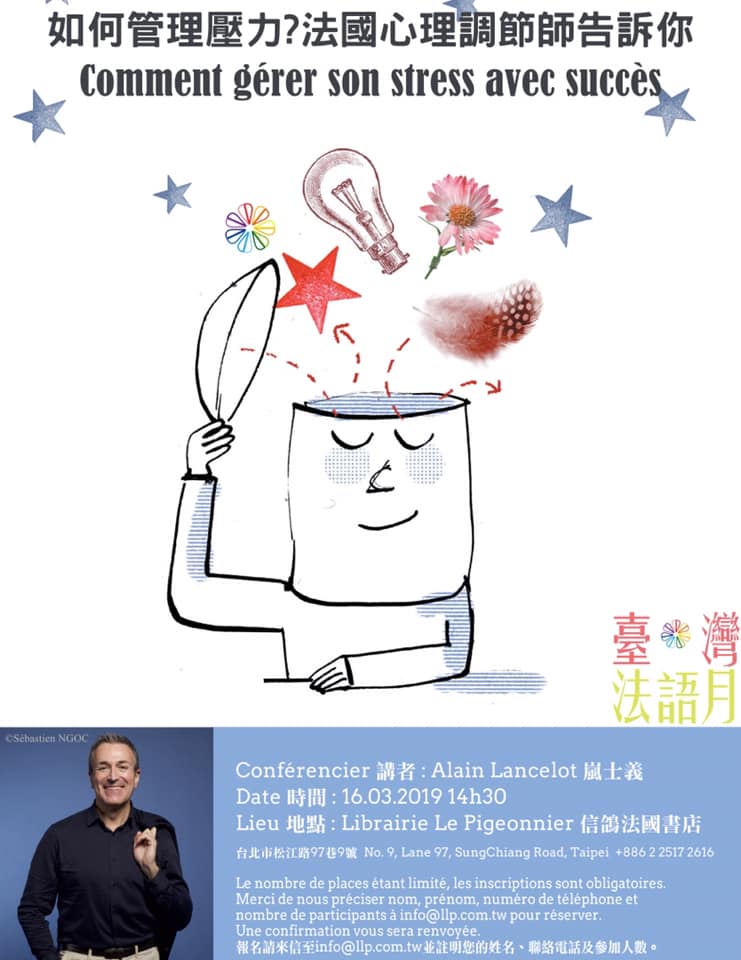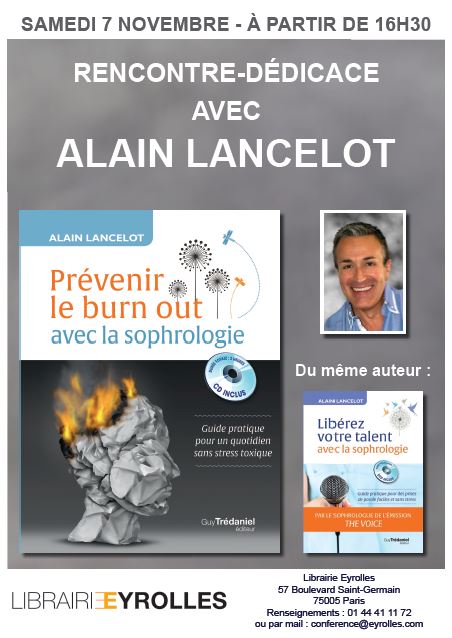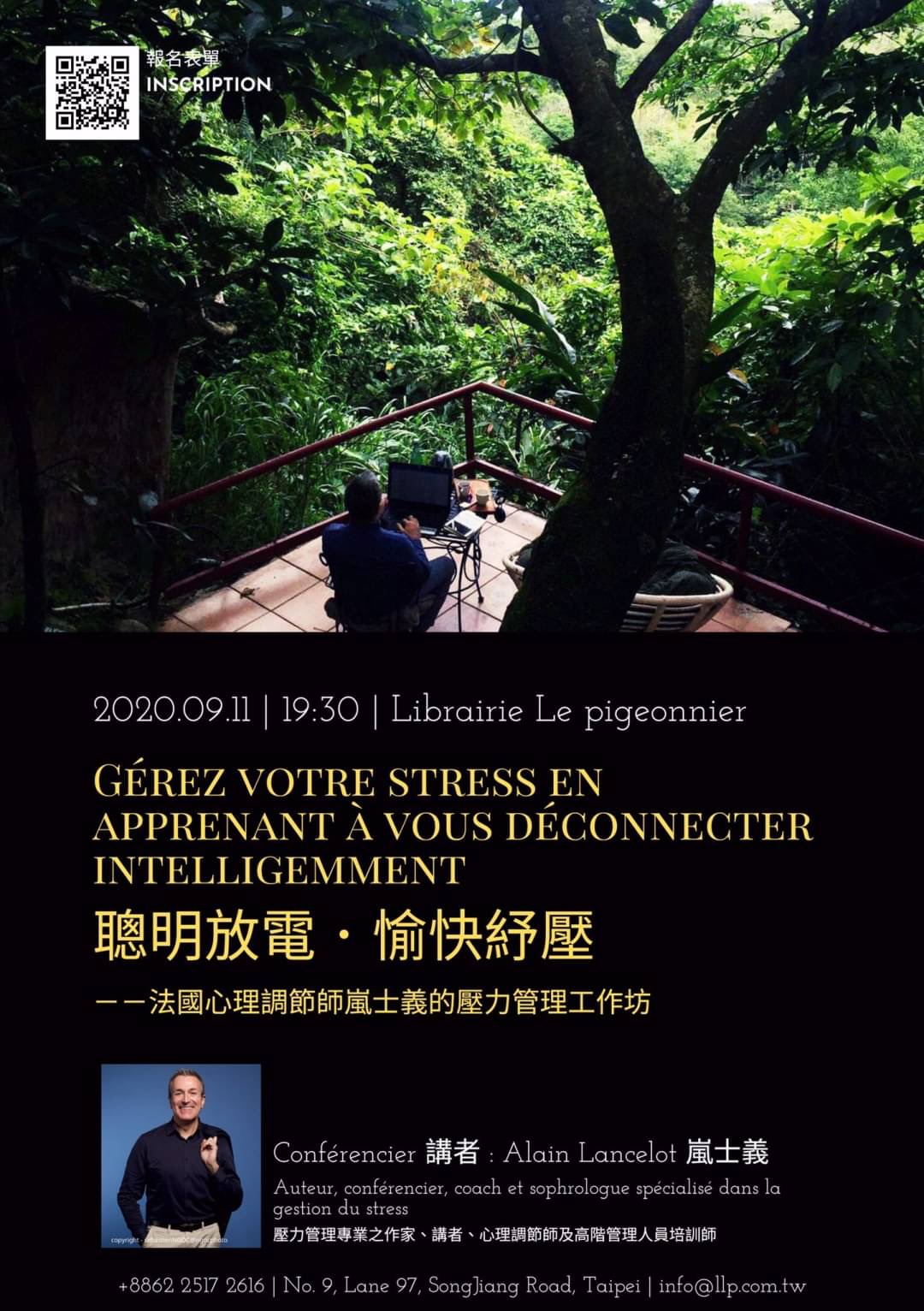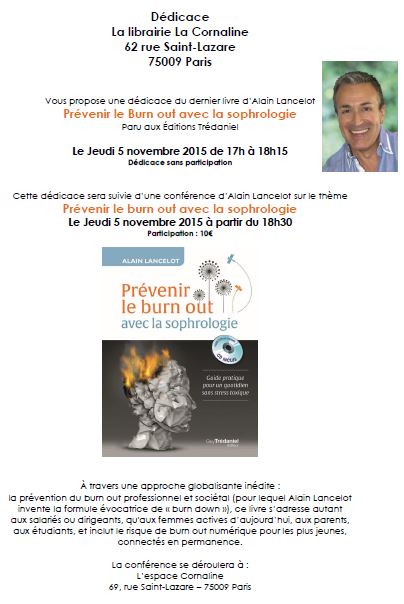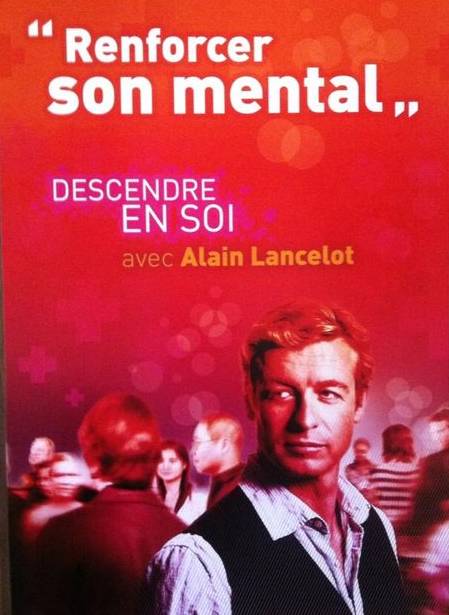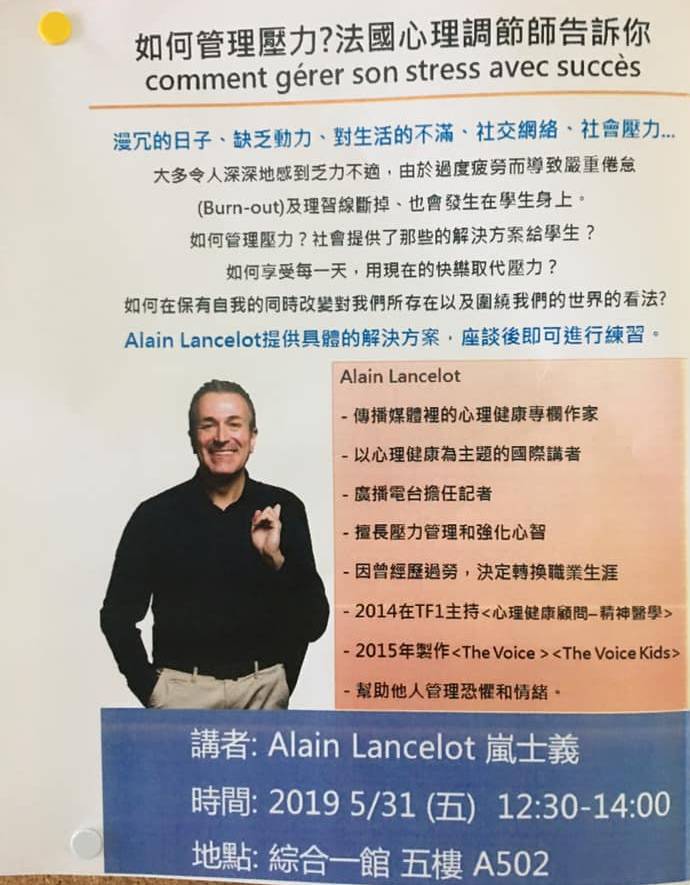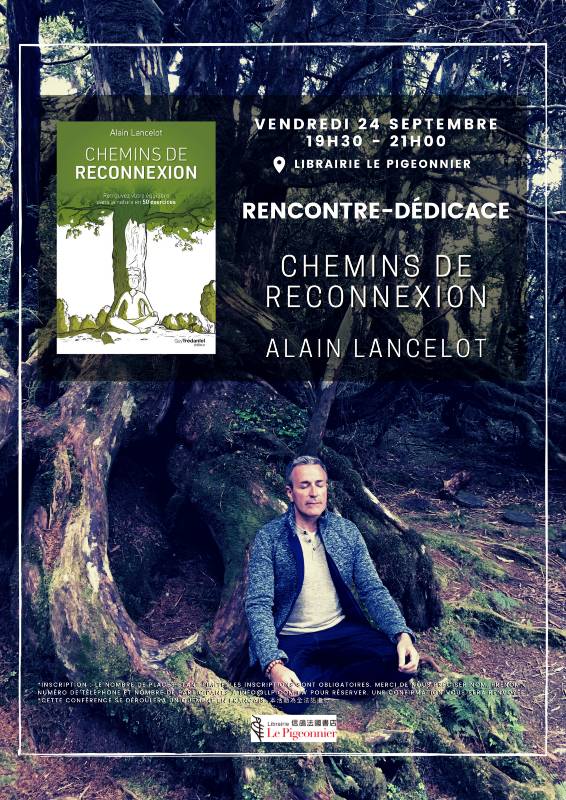 How to manage stress successfully?
How to prevent burnout?
How to strengthen your mind?
How to speak with pleasure?
How to develop resilience in times of crisis?
How to reconnect with yourself and your environment?
All these questions and more I have the pleasure to address during my conferences. Indeed, all it takes sometimes is one word or phrase spoken at the right time for a solution to emerge.
Available face-to-face or in webinar format, these lectures are suited for all audiences, so as to convince as many people as possible that we are each of us largely responsible for our own health and wellness. You, too, share it with those around you, your employees, or your audience!
Together, let's take care of you!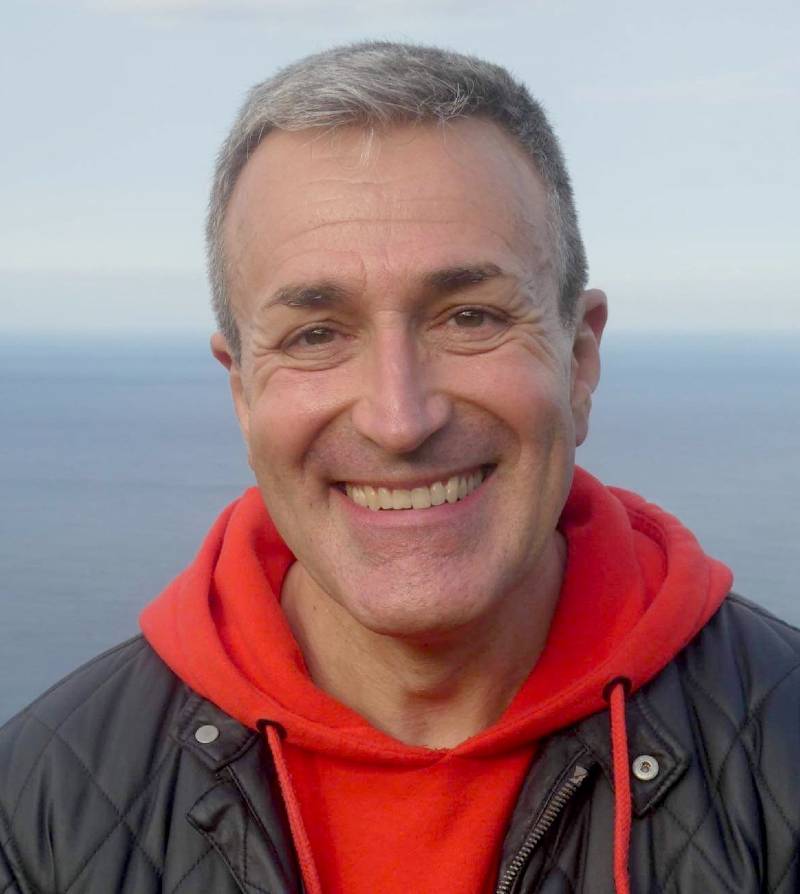 5 minutes of anger or frustration build up cortisol to the point that it becomes poisonous. To release this poison from our body, our brain mobilises its immune defences: this process can take up to 5 hours, during which you are not protected against other external aggressions. You remain thus on your nerves, getting angry with everyone, for anything: that again will trigger the production of cortisol, and feed the process for 5 more hours. In addition, cortisol, on its way to the brain, kills the cells in the hippocampus that are responsible for calming us down. It also stores fat! You are thus, in all respects, entering a dangerous downward spiral. The solution is simple: Stop everything, let go, place yourself in a state of relaxation and mindfulness with sophrology, meditation, Qi Gong, Tai Chi, yoga or any other method that suits you. For example, it is now proven that meditation produces higher levels of DHEAS, the anti-aging hormone that naturally counteracts the harmful effects of cortisol. So... What are you waiting for?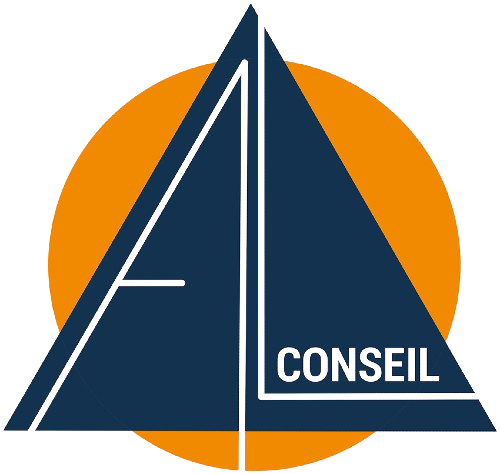 Author, lecturer, coach, and sophrologist specialised in stress management.
A big thank you for all the advice... Abdominal breathing and that famous present moment. A real pleasure!
"My meeting with Alain Lancelot changed a lot of things in the way I approached my job and my life. It was a real trigger towards a path that I can qualify as success because I won several contracts following this work of sophrology. It encouraged me to pursue an internal and personal enquiry of a lifetime. I like to say that the mere presence of Alain Lancelot is magical, in as much as it is positive and motivating. Thanks to him, I regained the self-confidence that I had lost!"
I am a singer of a rather shy and reserved nature, which can seem paradoxical when you choose to do this job. What my coach Alain Lancelot made me discover was the possibility of using practical exercises in any moment of life, in the studio, when I work on my lyrics, or even for an audition. He helps me free myself from the tensions or paralysing fears associated with stage fright. He allowed me to realise the strength and power of the mind over the body, and the importance of not dissociating the two. My observation is actually quite astonishing. More than a feeling of harmony between body and mind, Alain, always listening with goodness and empathy, always offers the right exercise, the one that allows you to optimise your performance and surpass yourself. Today, I can't imagine continuing my career without drawing on his skills and experience.
Like Mr. Lancelot, I was the victim of a burnout. His professionalism, benevolence and listening allowed me to walk back up the slope on a positive path. Thank you for everything.
Alain is very attentive, and he knows how to adapt his sessions to me, to my own needs. Thus, each session provides support, a moment of relaxation, a total letting go. Alain also gave me some simple tools to release my tensions the moment they appear, and to start again serenely.
Your sophrology sessions have allowed me to know how to breathe, relieve tension, and find ease in front of a full room. It is also for me an amazing way to concentrate. I would like to add that I have tried other methods before, but I have never been so comfortable applying myself in your teachings. You know how to give confidence, as soon as you arrive, so that this work on ourself becomes a real moment of pleasure. I keep talking to those around me about the benefits of Sophrology when it is well taught, with someone like you. Well done, you are a great professional. Thanks again and see you very soon.
Stress used to make me lose my means during exams, especially in writing. I had what felt like black holes, and what I lacked would come back to me only at the end of the ordeal. I then contacted Alain, a professional sophrologist. His exercises and visualisations allowed me, session after session, to regain self-confidence. And to approach my exam with less apprehension and better stress management. I finally passed my exam thanks to his valuable advice... I recommend him to anyone who wants to better manage their stress. THANK YOU…
Dear Mr. Lancelot, I would like to thank you for your service and the passion you have communicated to our IIM students. Your classes on public speaking and the management of oral-blocking stress factors were a great success.